I've been lazy again. It's going to be like this since I have hard time holding my attention to any one thing for long period of time. But people have giving me enough side jabs to get me going once more.
All you have to do is nag. Then, I will do it.
Anyway, as you know, I am from land of wonder. We are proud producer of: UNIQLO brand, chopstick and great pastries to list a few.
We are also known for random invention. All you have to do is re-read my old entry about Dr.Nakamatsu, the inventor of lots of things pointless.
I love looking at useless inventions that people put a lot of money into to get it paten approved. Don't you feel the love in it?
Anyway, I used to know this twin, who claimed that when they were a little girl, they submitted butter in the shape of chapstick for children's invention contest. They did not win at the time, however, some asshole actually got paten for the butter stick later on.
When I was looking up "Chindogu-bizzar invention", I came up with series of useless shit.
All you have to do is really look at these photos and feeeeeel the loooove.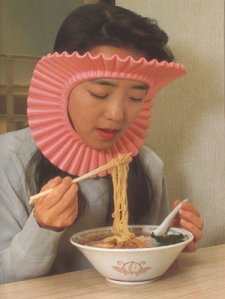 Do not fret though, you North Americans also made pretty useless shit:
OK, fine, it's not as insane as my people. All I have to say is that we are as hard working as slave ants or bees. SO much so that we need to sleep on the way to and back from work and this is so useful when you do that: